TV, Movies, Music! - Polymedia #1: Time Medley
Welcome to the first formal issue of Polymedia, your home on Polygon to discuss anything TV, Movie or Music related. As of now, I'll try to do this either in a monthly or a bi-monthly manner. If anyone wants to do one, just tell me and I'll work out a date.
So let's get this started officially, the first three featured items are:
Featured TV Show: Doctor Who
Featured Episode: The Time of the Doctor
It's a kid show. THEY SAID.
It won't toy with your feelings. THEY SAID.
Seriously, this show has tugged at my heartstring quite a few times. So what is Doctor Who anyway? Well, I'm not a master in Doctor Who lore, only having followed the adventures of the Matt Smith incarnation (I'll get to the watch the others...eventually) but I think I may just be able to give you a quick description of what it is.
Wibbly Wobbly Timey Wimey...stuff.
Wait, that's not a good enough description? Okay, let's try again.
Doctor Who is a British science-fiction television programme produced by the BBC. The programme depicts the adventures of a Time Lord—a time-travelling humanoid alien known as the Doctor. He explores the universe in his TARDIS, a sentient time-travelling space ship. Its exterior appears as a blue British police box, which was a common sight in Britain in 1963 when the series first aired. Along with a succession of companions, the Doctor faces a variety of foes while working to save civilisations, help ordinary people, and right wrongs.
Thanks Wikipedia! And yet, the show is so much MORE. Seriously, the characters in this show are amazing, and you get to actually care for them...which makes it even more hard when thingshappen. Seriously, sometimes I don't know how this could be considered a family show...there are some dark things going on. Another thing that is worth mentioning is, if you've seenanything about DW, you've probably seen that there are different actor playing the main character sometimes. Well, there is a good explanation for that. See, as mentioned before, the Doctor is not human. And thus, one of the differences of his species (besides having two hearts), it;s that he can regenerate into a new body in situations that would prove mortal for us mere humans, thus giving him basically a new life. He is still the same person, same memories, but is different in personality and well, actor. So far, 11 people have taken the role of the Doctor, and the 12th is soon approaching. Over the course of 50 years, people have enjoyed the adventures of the Doctor...and you know what the best thing is? There is no end in sight.
Remember to tune in on Christmas Day for Matt Smith's final adventure as the Doctor on the brand-new Christmas special, The Time of the Doctor!
Featured Movie: Pacific Rim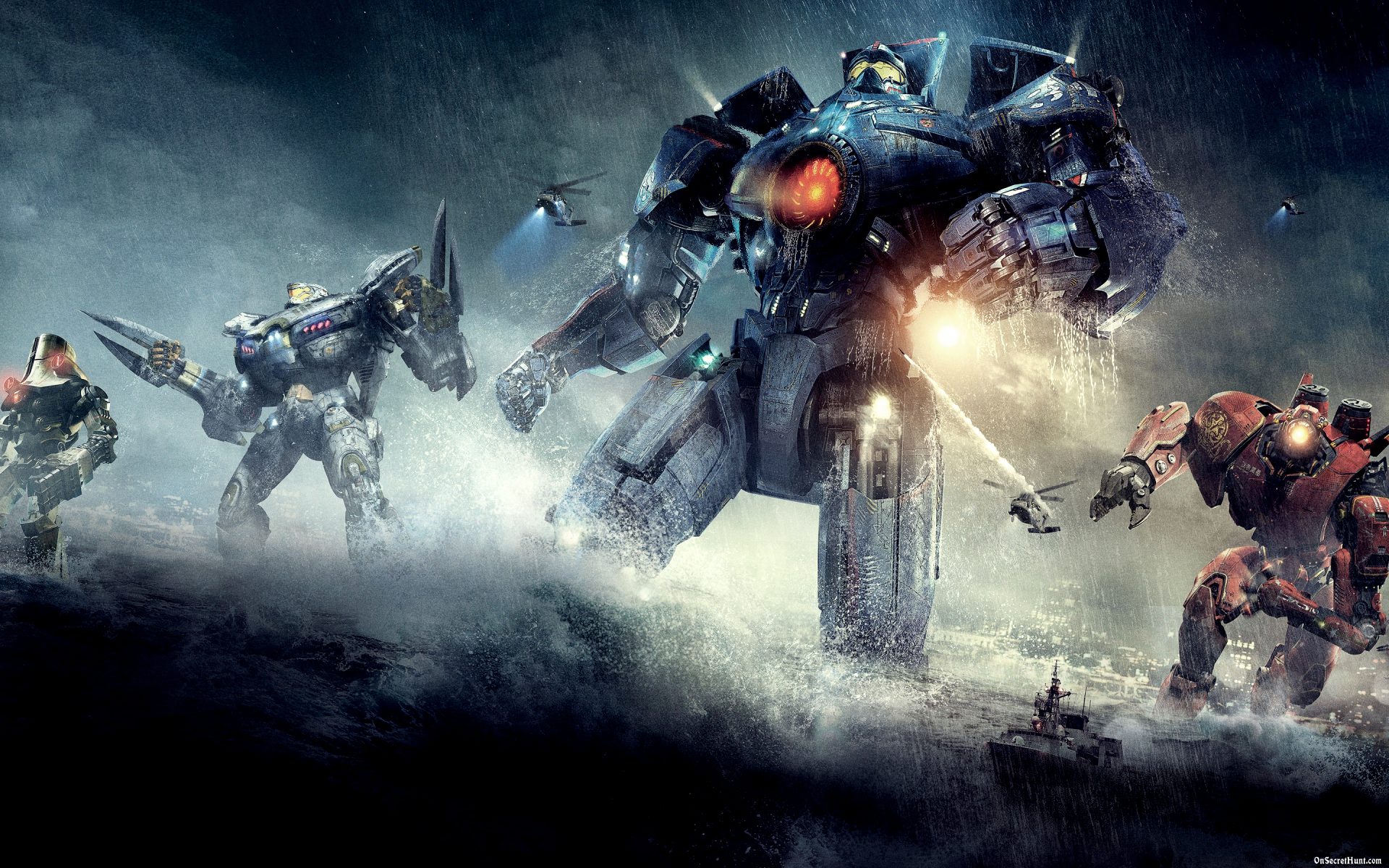 What can I say about this film that hasn't been said before? Look, this movie is my favorite movie of the year so far. It's like one of those movies you were always dreaming to happen, and finally did. Giant Robots vs Giant Monsters all over the world. It also has a pretty good story, and Idris Elba is always a plus. Seriously, that guy is awesome. So, anyway, what is Pacific Rim about? Help me out here, Wikipedia.
"In 2013, human cities come under attack by the Kaijus: colossal beasts who come through an interdimensional portal on the Pacific Ocean floor. To combat them, the Pacific Rim nations build the Jaegers: equally colossal humanoid war machines. Each Jaeger is piloted by two people whose brains are linked to share the overwhelming mental load of operating the machine."
Seriously, if you haven't watched it yet, go do so! It's just...there are no words to describe how much I enjoyed this film.
Featured Music: Lindsey Stirling
Featured Track: Crystallize
I had a hard time choosing which music to feature, as I had a lot in my head as good choices. But in the end, I decided Lindsey was the one. This woman right here is downright amazing. If you told me a couple of years ago, that one of my favorite artists would be a solo violinist, I wouldn't have believed you. But here I am, she's just that good. While she first tried her hand in one of those TV talent shows (can't even remember which), she wasn't accepted because they though people just wouldn't be attracted to listen to a solo violinist. So she started doing YouTube videos, and that's where she managed to get her current fame. She has many original tracks (which you can find in her album) and also covers other songs (like the Skyrim theme, a Zelda medley, Assassin's Creed theme, and more...). As mentioned before, you can listen (and watch) most of her work on YouTube.
------------------------------------------------------------------------------------------------
Well, that's it for the first Polymedia, hope you like it! Any thoughts about the featured items or anything TV, Movies, Music related? Then go, commenting is FREE!
In case anyone wants to participate and help me out in making future issues of Polymedia, feel free to mention it!
Previous Issue: #0.1: UNDER CONSTRUCTION
Also check out: Anime, Cartoons, Comics! Plight Vol. 1, No. 12
Any thought on how to improve this thread and it's future issues are appreciated :)
And finally, Merry Christmas everybody!
Loading poll...