BreadKnight
joined Oct 20, 2012
last login Sep 02, 2014
posts 19
comments 4704
You can put me down as a Sony Fanboy if you want(Which lets be frank here, I am) But I do so love to play every consoles games.
Also I love Spider-Man, like a lot, like it's my favorite thing ever so.....yeah.
Recent Activity
Saw the Summer Lesson one, was thoroughly creeped out.
I don't know who you picked but yeah it just leads to some different dialogue and characters, levels are all the same.
Though only one of them results in the coolest inclusion of a time sensitive alternate history real world character I've ever seen.
I hope not, I used to use them for rentals, not anymore, but now they have excellent deals on used games and I've never bought a game used from them that wasn't in near perfect condition.
Yeah I see it.
Not really no, there's a movie coming out, liable to have a game tie in like R&C is getting, and only last year a fourth game came out.
Not from Sucker Punch, but still pretty great.
When it comes to loot fests I get really addicted, and it doesn't help that they're games I can half pay attention to while fully enjoying so I binge Netflix during.
The PS Specific bonuses are never that great, but I buy most things on PS anyway so I mean…
That's cool though, I just never got swept up in the hub bub about Last of Us, will probably play it someday but it's nothing resembling a top priority.
I had Dark Legacy, I played it a LOT when I was a kid.
I also recently watched some gameplay footage and oh my.
I thought the last of us thing was pretty cheesy.
But then, I've never been interested in Last of Us so I guess my say isn't a factor on coolness judging.
I haven't heard, but given Blizzard is one of those hardcore PC dev's(well I guess a little less so now) they'll probably just nope it until people stop asking.
PC feels like a point and click game, consoles feel more Akin to Gauntlent
I fell asleep and woke up to discover that it drags your inactive wizard ass along with the party anyway.
Also when I got my hands on this copy it may have been my 21'st birthday party, and I may have been 4 Vodka cokes in.
I played it on PC, but only briefly got my hands on a copy for the PS3 last december, it's incredible how much improved the game is with something as simple as a controller.
Haven't touched the Reaper of Souls content or really anything since the big game changing patches so getting a copy for PS4 has me excited, will have to wait on Amazon for now though.
Today I was gonna get Diablo 3 but the store didn't have any copies that weren't pre order specific so that bummed me out.
Whats this thing going on with the dev of Depression Quest, I've only heard bits and pieces, but peoples overall reaction to it and to her that I've seen has been disgusting. This harassment of devs, or anyone really, needs to get cut out, because it's terrifying how much hate people can spew at the people making what they claim to love.
You can talk about anything you want, but this is also why spoiler tags, and links that don't plaster the images exist.
There's ways to talk about new things without outright stating it for everyone to see, could have easily made the post about his enjoyment of seconds and put these images behind a link or a spoiler warning.
Obviously you can't do that for everything, but this instance didn't even try.
Oh hey Man Hunt 2 box art, it's been awhile dude.
Not my point, my point being these are fun, yet inconsequential moments overall, but seeing them in the book made me smile discovering them. I didn't immediately show them in detail to others who may want to read the book.
Basically I don't like it when people gif or jpg out moments like this or popular moments of things and then spread them endlessly, it leads to spoils or just dulled reactions for people who haven't experienced these things yet.
Other's may, especially since both of them are from his best known book series.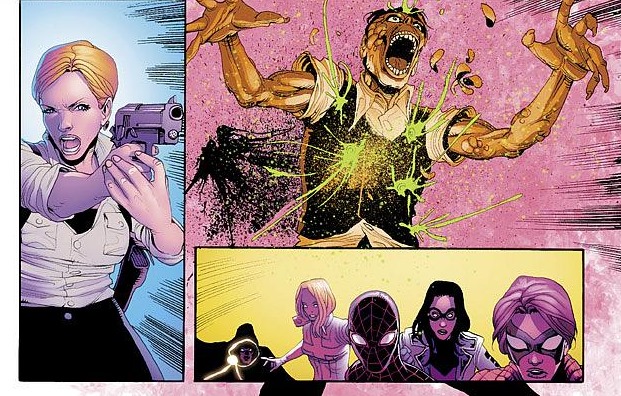 All-New Ultimates is ending with issue #13, not outright stated yet, but the arc starting with #10 is labeled as "The beginning of a 3 part climax".
Worst period of the Ultimate Universe since Ultimatum, both it and Ultimate FF have been awful, very good ideas overall and I was excited for both of them, but both failures.
Seems UCSM will be the only book in the universe still running after this, and if the U plays a part in Time Runs out like I think it will, then the entire Universe isn't far behind.
Both of these are fun moments for longer time fans of O'Malleys works.
Neither of them should have been posted outright with no spoiler warnings.
Lotta movies like that lately, Trans4mers was being heavily marketed to kids and I'm pretty sure watching it counts as assault with a deadly weapon against you.
Also yeah, villains in GOTG weren't great, Collector barely dd anything, Nebula was way cooler than Ronan and was painfully under developed, and Ronan The Accuser was….just….stupid.
Give cali your rain, we have this whole devastating drought thing going on here.
Because Metal Gear Solid rakes in the cash as it's a known property, and Ground Zeroes was just the first mission of the game sliced out pretty clearly. They just tossed in some side stuff for you to do to add a bit of value.
P.T is likely just Kojima being weird, as he couldn't pull the "Phantom Pain" wool over our eyes again so he thought of something new, and all in all if they just released "P.T." out into stores it wouldn't get many sales, ever, especially not at $30. But MGS is a huge enough name that it $30 for about 2 hours of content is worth it to a fair amount of people.
Setptember is the jump 5 years ahead event month, it's probable that's just his costume for his tie in issue maybe?
He has an entire other set of responsibilities to the world, such as before now and still keeping the air nations traditions and people alive for the long haul after that whole nasty genocide thing.
Really, you aren't invested in literally anyone else? Korra? Bolin? Asami? Lin?
I think I have a personal stake in pretty much everyone at this point.
He probably did died, but maybe is fake out, personally hope he did died because adds much more weight to the end scene
Wow an airbender suffering immense loss, where have I seen this before in the series