FellowMusicFan
joined Oct 25, 2012
last login Apr 04, 2014
posts 0
comments 6253
Music first, gamer second, anime fanatic third.
Recent Activity
So I've been watching The Kawai Complex Guide to Manors and Hostel Behavior and so far, it hasn't been too bad. The first two episodes were okay but the third makes me think this show has potential for all kindsa goodies. I'm reminded of The Pet Girl of Sakurasou but with a slower pacing to it, or maybe just a bit more adult feeling? It has some cute characters but not quite as straight forward as Sakurasou did.
Anyway, if you've got nothing better to do and still want to watch something but have nothing to watch you should check it out.
I kinda mentioned this when me and Dark finished it, but I felt the ending (no spoilers ahead) felt rushed, and thus the pacing really fell through. Great up until the last 3 or so episodes but still worth watching and I wouldn't say it was a complete waste or anything.
PS: darknightgotham now I'm only going to refer to you as Dark and every time I say it all I'm going to think about is you as Dark Mousy from DNAngel. Now I really want to rewatch DNAngel. Da' feels yo'. Second anime I ever bought and it was on a whim. Bought it purely because of the box art.
It is single handily the worst anime I've ever had to watch, and I've watched some pretty awful anime.
One Piece is actually a reason my friend hated anime for years. From personal experience, unless someone gets into anime by themselves, shonen is just a bad way to introduce someone to anime. From personal experience. I haven't seen it work that way well once.
Comment
1 reply
Recommended (1)
I don't know why others went out of there way to watch it, or continue to watch it, but I just bought it on a whim at a local thrift place. They should've payed me that $10.
You willingly watched till the end? Man, I forced myself through the entire thing because I spent ten bucks on it.
Just people who use the term blanket statements take things too seriously, especially when talking about how to get people interested in anime and thinking that the guy who said Naruto was a bad way to go was way out of line enough to call it a blanket statement. Seriously. Think about it. You just called that a blanket statement.
People who use the term "blanket statements" should know better than to take what someone has to say on a video game forum as a matter of fact statement.
The only gag I've ever enjoyed that was run into the ground was Kramer entering Jerry's door.
Something that goes on for HUNDREDS of episodes I always find to be a bad idea to intro someone into, and I rarely find people start liking anime because of Shonen. Maybe on their own, but when they're reluctant to watch in the first place that's a terrible place to begin with in my opinion.
That's cool you got into it. I'm honestly surprised you persisted. And Naruto? Ugh. That's a terrible, TERRIBLE intro anime. Shonen is always the worst way to go if you want to get someone into anime. Almost always.
Top 3 animes I use are Outlaw Star, Welcome to the NHK, and Beck: Mongolian Chop Squad. I like to keep it fairly grounded except for with Outlaw Star if I think they'd like action better. I like to use the other two first though to show them anime isn't just fantasy based.
Yay? I say yay as a question because I have no idea if the game is any good.
Normally I'm all for it, but for whatever reason having 5 minutes of every single episode dedicated to the gag annoys me.
I like the characters minus the older sister. Really like the male lead. The show is okay. I'm kinda behind at the moment but I do want to finish it. I still very much dislike the white outline style though. Something about it doesn't play well with my eyes.
Comment
3 replies
Recommended (1)
Oh Rea, you beauty you. But yeah, I find a lot of people that don't like anime have only ever watched it in passing, or were watching complete garbage/something out of their genre. I'm pretty good about reading into what people are into and then choosing an anime they'd like.
I don't really look at anime as its own thing, I treat like I would pretty much anything else as far as entertainment. Obviously some of the things I watch that are anime I know are complete trash, but everybody has their guilty pleasure shows. For some it's reality television, for me it's terrible RomComs. Except for Green Green. Fuck Green Green. Not even I can stand that garbage.
So I got my friend addicted to anime and I always love doing that. He'd watched before but never really delved into it outside of Cowboy Bebop. I had him watch Welcome to the NHK which he absolutely loved and then I had him watch Space Brothers which he now thinks is the best show of the past 5 years of anything.
He'd never really knew anime had that depth of character development and thought it was mostly shallow for the most part, and given what he'd seen in passing I can't say I blame him. I gave him my Outlaw Star box set to watch next and after that I'm gonna have him watch a comedy and show him anime can be really solid in that category too. It's gonna be School Rumble.
Have any of you introduced your friends to anime and now they can't get enough of it?
PS: darknightgotham I could be wrong about this but weren't you really not into anime a year or two ago? I thought it was pretty cool how much you like it now, that is if I'm thinking of the same person.
Shogo is probably the best friend character any main character of a show like this I've ever seen. Most just get the dimwitted fun loving guy, not the person who's logical and observational.
Ooouuuuuu, F91. Nice pick.
God do I hate season 2. With just, every fiber of my being because I loved the first season so much. I don't think I've ever been betrayed harder by an anime.
I started watching The Familiar of Zero for the first time, and while it has that RomCom formula that the mid 2000's had permeating it I like it because of it. It's just safe and you know what to expect. Kind of a double edged sword but whatever. I'm extremely surprised I've never watched it because that era of anime is sort of my jam yo'. Not a good jam, but it's my jam.
I've been waiting for this for 6 years now ever since it was a DS game. I never ever thought I'd see it happen, especially on the Vita but since the PS4 came along I bet the Vita has a larger base now, obviously enough to warrant it coming to the west. I am excite. Hopefully it does well enough to get Tales of Innocence R over here as well.
You can totally put those back in in reverse if you just hold the release button.
Never pulled out the led as a kid and tried putting it back in that way?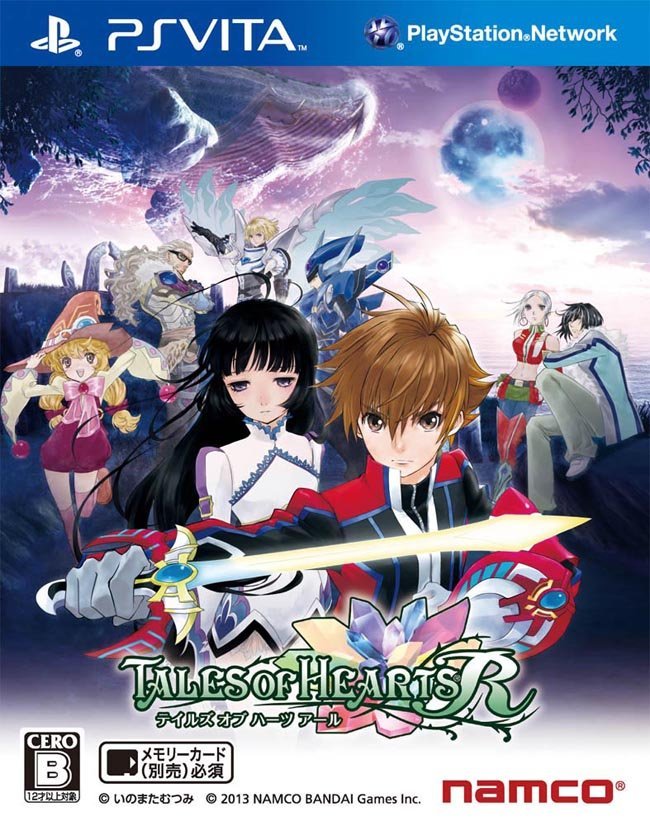 Yeeeessssssssss! It's coming to the west Winter 2014. Today is made. Set and match. Thought for sure we'd never get to see it. Now I can finally play Hearts. I've been wanting to play it since it was a DS game. Now if only we could get Innocence R as well.
I'm about to take you to the bank Ambassador Rhyz…the blood bank.