FellowMusicFan
joined Oct 25, 2012
last login Dec 13, 2013
posts 0
comments 5984
Music first, gamer second, anime fanatic third.
Recent Activity
Favorite game of the last generation. I know I'm a huge Tales nerd, but I sincerely really do think Tales of Vesperia is one of the best JRPG's ever made.
Comment
2 replies
Recommended (4)
Huge Tales fan, so my excitement hit an all time high learning it is already in the works to get a US version. Also, getting Tales of Symphonia Chronicles and Tales of Xillia 2 next year is neato.
Actually, never mind. By Your Side is from last year, not this year. So one. I've listened to one.
I'd like to say I'm up to date and hip but I've only really listened to two albums that are actually new this year but both were fantastic. By Your Side by Breakbot and Random Access Memories by Daft Punk. I've spent all this year listening to albums from before this year that are new to me, so I'm pretty out of the loop.
Kōsuke Fujishima, but that shouldn't really come as a surprise to anyone who knows what my top 3 favorite anime are.
Do not care it was already posted. Posting about it again due to level of excitement.
Worldwide release. Much excitement. Much wow. Such surprise.
I smell a lawsuit for character likeness from Nintendo.
I'm reminded of Collette's cloak.
Anyhow, the game is going back to its fantasy element roots after Xillia and this new title is using all four series designers; Mutsumi Inomata, Kosuke Fujishima, Daigo Okumura, and Minoru Iwamoto.
I knew posting this comic was a bad idea.
The opportunity hasn't presented itself, but I'm not saying I wouldn't do that either. So better man than me.
You've never bought something you shouldn't have instead of being responsible with it like paying a bill?
Yeah, that was the best part of the whole video. Unfortunately you have to think that the VGA's were made with just general people in mind being a dumbed down celebrity fest and even more dumbed down game content. The VGX was an improvement, but ever so marginally.
I never visit the site because I hate the show so this was lost on my people.
Comment
2 replies
Recommended (1)
See, when I look at that comic I just see a man who had the potential to be responsible, but instead wasted the opportunity for a thing he wanted like a child. I found that funny and relatable. What other people of the internet see: LOLZ HE GOTZA AN XBONE! WHAT AN IDIOT!
Comment
1 reply
Recommended (2)
I seriously doubt he's faking that. He came across very straightforward and genuine. He doesn't try and play it up more than he needs to when he's talking about the games. Hell, he uses sound effects from his mouth. He talks about it like his Christmas and how he got one great gift (No Man's Sky) and the rest was lackluster and your disappointing uncle showed up.
Worldwide no. Japan? You watch your mouth.
Also, that guy is by far one of the funnest commenters on video games outside of YouTube I've seen. He just comes across as so honest, and because of it it's funny.
"Bland, wet toilet paper of a trailer." He's a poet.
Comment
1 reply
Recommended (1)
It's actually sort of brilliant in how bad it is. I swear to you they actually make bad film making seem like a subtle art sometimes. Like you watch something, it's awful, but then you can't help but feel in the back of your mind they knew exactly what they were actually doing with that.
Comment
1 reply
Recommended (2)
I was laughing, and then horrified. Then laughing again.
Seriously though, 2:05 just…why would you do that?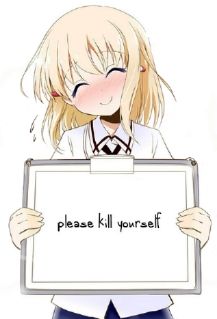 Comment
1 reply
Recommended (2)
They make me laugh, and all because his interns probably took the first image they got from Google image searching hentai. They didn't even get hentai at all.
I bought a new console because I'd seen what happened with waiting for my Wii U. It is getting slaughtered because no one supported it in the beginning. If it would've sold what it has up till now near the beginning I wouldn't doubt we'd be seeing better games by now or sooner. Because of how the other two consoles are set up, the Wii U could've had really great third party developed games exclusive to the platform.
Waiting just results in poor results for any game console to me. Obviously that's a double barrel gun, because nothing may ever happen, but I'm confident either will do so and I should've been less confident about how the Wii U was going to sell. Not that my sale would've mattered on the grand scheme, it's the principle of the thing.
Personally, the last really strong console launch I can remember was the N64. Not a wide variety obviously, but Pilotwings 64 and Mario 64 were games you just didn't want to pass up on.
Wha? North did a good cockney accent I thought.
I know I'm not, but as a Tales fan I must play it. Except Tempest. Screw Tempest.