Rathorial
joined Oct 25, 2012
last login Jul 30, 2014
posts 16
comments 2796
Recent Activity
2012 was the year where my hype was exceeded by multiple games, and this one is at the top of my list. It already had so much of what I wanted, with Thief-like non-linear levels, interesting means of traversal, constant control with little cutscene interruption, story that reacts to your actions that you make in real-time instead of just dialog, and innovative tools that I can use how I want in a given encounter.
What amazed me was that this game was talking about doing things I wanted, and then it didn't turn out to be marketing PR or fake demos. I could do everything they mentioned, and so much more. Every new ability I got had more applications than any RPG I could think of, the world felt evocative and unique to explore, the lethal options ended up being so fun I actually looked forward to use them in a game I planned to ghost, there were choices I made without any dialog or context-sensitive prompt that altered my story, and then top it off…the game controlled like a dream, without the clunkiness I usually see end up in immersive sims like Deus Ex, Thief or Stalker.
I'll echo Mintycrys in that it reminded me why I play games, and I wished that feeling happened more often.

Not every day you see a beloved niche turn-based strategy game come back, in addition to the new shooter take on it, and then have the old-school one dominate interest.
The game was slowly building up hype before release, and then as the reviews poured in you saw people outside the strategy game loving space singing its praises. Some already saying game of the year, despite bugs that appeared. I dipped my toes into Dishonored first, but afterwards dove into this title. I had little experience with that previous games on a friend's machine, but was startled by how easy it was to pickup.
Outside some advice to build satellites early on, the game did such a fantastic job educating you on how to play, creating a fantastic progression loop from alien technology you researched, and just how much all the decisions were up to me. The combat camera I thought was just a gimmick production value, but actually was such a great tool for tension, as I wait to see if I hit or miss my target. All of the close calls, the naming my team members, the acquiring of new and better tech against new enemy challenges…it became the game that is still now my highest hour count on Steam.

Who knew within the same year I'd get another stealth game to enjoy. The hype behind the game was fairly high, despite Microsoft doing nothing to advertise it, and I skipped the release once I found it would get a PC port fairly soon after.
I was startled by the high scores it was getting, because it came from the studio that did the Shank games, which were average beat'em ups to me with above average art. I wasn't expecting them to do much in terms of creativity after I had seen their previous games, much less make stealth fun in 2 dimensions. Within an hour though, I was blown away by how much this game was better than anything Klei Entertainment made before, to the point I wondered if they got whole new designers to work on it.
The art itself wasn't just there to look pretty either, it was entirely meshed into the gameplay, from how sound was showcased through rings, enemies view was handled with flashlight arcs, your character blended with shadow when undetected, and your view was limited in a way that made everything just ….fair. More than any other stealth game, it offered the perfect amount of clarity to the player, and then built challenges around it. Each new level gave you new tools or methods of approach, with influence from Thief in its multi-pathed level design and focus on light and sound.
Even the controls were improved from the previous games, having little to no hint of input lag or being stuck in animations, to the point that if I got caught…it was always MY fault. As I finished the game, immediately I was asking myself 2 questions:
1. Was this little downloadable game the best thing I played this year?
2. Did a tiny indie team from Canada just outdo the vast majority of stealth games I've played in the last decade? (answer is yes)
Bummer about the exclusive content, but cool that more people get to play a great game.
Well the guns get strong, the trouble is they're weak until certain upgrades…especially that pistol.
Still I just felt like using the blade most of the time, because it was incredibly satisfying.
Well I think the important thing to note is you're framing artistic vision the way someone would in context to a non-interactive medium.
At some level in a game, the player is also co-authoring part of their own experience, to the level they do things the designers don't even suspect, and certain games even build themselves entirely around that facet. It can be a gamble if those choices are good or not, but even Chris Avellone noted in Fallout: New Vegas players were able to trigger these events with the systems of the game, and the result was they were more impactful and organic that something he said he could have directly authored himself.
Even if a decision might not carry strong moral or thematic weight on it's own, just the player having control and freedom to make it even happen vs. watch it passively happen…can create a stronger emotional impact.
The difficulties I think face writers who work in games is the notion that you have to give up intent, give up being the essential god of the narrative, and put some of that power in the players hands.
Comment
1 reply
Recommended (1)
I echo the same sentiment, though didn't play any of the PVP.
Comment
1 reply
Recommended (1)
Shadow Warrior (2013) would be it for me. The game comes from a goofy, if not a bit clunky stereotyping game in the past, and drew me in. I laughed on multiple occasions, from actual clever jokes, to random emergent stuff like this: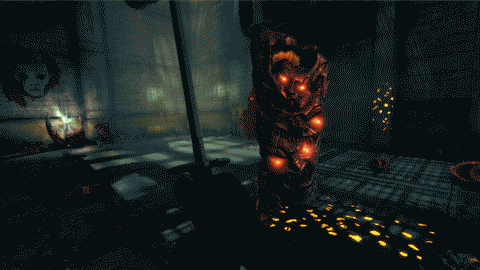 and even crass DLC like this:

I think it's greatest joke was that the story ended on a serious and sad note that actually resonated with me stronger than other games of the year that were deemed impressive storytelling.
In this manner excessive gameplay might be considered more of a symptom of an underlying issue than the actual cause of a problem.
The quote that distills down how I feel about EVERY case where video games are blamed for problems in society or death.
Never said reselling was a crime, and none of those examples have ever been applicable arguments. You're free to do it, just like I'm free to say I think it harms the industry.
The first 2 are different kinds of media, each with their own forms of secondary markets that generate them revenues…and often in movies selling the retail movie IS a secondary market, and they've got opportunities for TV syndication, paid premium channels, streaming, etc.
The last example is a multi-thousand dollar vehicle, that when you sell it will be a machine that has actual wear and tear on it, which the buyer will have to factor in. If it doesn't , you paid extra to maintain it, while a game disc will be fine for years, or can be resurfaced for a few dollars. A used game for most purposes is literally as good as a new copy, sold for less, and the creator sees no money from it…a used car is not as good as a new one, and the manufacturer's of those same cars sell their own products used (game devs can't/don't). Unless game devs spend time and money to generate additional DLC or expansions, they don't have another way to generate more revenue if their original sold copies keep getting re-circulated.
Gamestop more than any other company makes over half their business from reselling titles, stacking used copies next to new, always advertising new vs. actual sales on new content, and having their employees aggressively push used on to consumers. I've never seen a bookstore or electronics store push this with movies or books.
As long as the exploration isn't: "explore these wonderful almost empty planets that took one guy a half-hour in the unreal terrain editor".
It does show Sony still has a ways to go, and if they're going to start wrapping their basic online service into a subscription, they need to improve their service far above what the PS3 did.
I think it did the direct opposite of any rape or sexual assault overtones. After the initial scene at the beginning, she pretty much starts to dominate everything after that with incredible skill. I think the game just didn't handle steady character growth, and just flicked the switch from weak girl to action badass.
If you didn't finish the game, then I don't think you'd understand, and if you did…then I have no idea what game you were playing.
Kinda glad they don't know, because if the money they generate is made from a portion of the portion that even know you cant trade-in games. I'd hate to think of the damage if that doubled, and how companies would respond by trying to suck more money from consumers.
1. Well the trackpads were the main way for this controller to handle PC games that call for a mouse, so there is no way they're going away for sticks that are less accurate. 2
2. That was the biggest oddity for me, I thought we already realized convex sticks were dumb, and concave was better. Even Sony sorta figured that out by collapsing down the still convex-y bump on the Dual Shock 4. Nintendo though hasn't learned that, but they at least do a good d-pad.
3. I would guess the grips in the back, which I don't get why Sony and Microsoft didn't do this. Third-party controllers have done this in the past, and it gives your fingers in the back something to do. What I'm confused by is why the trackpads only show one icon. Before they were supposed to act as something you slid your hand around, pressed down like with analog sticks for another set of buttons, and then the outer ring would act as a key modifier (ctrl, shift, alt, etc.)
4. It probably should get a name in the final iteration.
I still think they should've put a proper d-pad in there, but I'll take an analog stick over those 4 crappy buttons that were their previous bad attempt at a d-pad.
I think you're misunderstanding what the device's purpose was in the first place. It was less of a "we're trying to change or evolve gaming controllers", than it being merely a pad that will work for a wide swath of PC games on the couch. Valve from the beginning noted that was the purpose, as users wanted a solution to play stuff on the couch, and it fits alongside the Big Picture Mode for that same reason.
It was always at some level going to replicate or being able to adapt existing games that work with keyboard/mouse and content already there for gamepads. They dumped the touchpad because it wasn't working (though still were open to it in the future), and chose the ABXY configuration because games are designed around that button placement for actions…some even need you to combo buttons in that format.
I do think it would've benefited the controller to have a proper d-pad in there for games that make good use of that, but an analog stick is still better than their faux 4-button d-pad from before.
The haptic trackpads were always the key bridge for the keyboard/mouse side, since they offer more space to be accurate with aiming a cursor like a mouse, and the outer rings of each trackpad act as modifier keys along with the back keys to store more commands that you need for keyboard intensive games.
TLDR Version: The game has nothing about it that is unique, it is a standard shooter with some MMO elements, and it's only selling quality is the co-op factor…where everything is better with friends.
Well my experience so far has been disappointing. After both the alpha and beta, the only improvements were the AI was less dumb, even though it still made obvious mistakes compared to what I remember in Halo. The gunplay is better than Borderlands, but like Borderlands just has one main class ability that gets augmented over time, and the rest is grenades on a cooldown with some mostly minor buffs to your character. I can't see that grabbing me for very long, and the loot isn't numerous, but I do like how some loot items have their own unlockable upgrades.
Still, it has the traits of an MMO I don't really like. The quests or missions change out the find/kill X variety, and are just in the go to X and survive/kill boss variety. The dynamic missions are there, but so far have look underdeveloped, especially in variety compared to Guild Wars 2, and haven't really grabbed me…which seems to be the main addition they advertise for the "shared-world shooter". There just aren't any unique mechanics or ideas the game really has that make the experience feel new or at least refreshing. The progression of your character also makes the PVP fairly unbalanced, and if enemies are higher level than you will just be damage sponges than something actually challenging to fight with skill.
The only other good aspect of the game aside from the loot, was the interface, which seems almost designed around a mouse…so maybe I'll pick up the game to play with friends when the inevitable PC release comes out. It's already in the Steam database, and there are rumors of it hitting March 2015.
Outside of the mostly cosmetic progression in CoD, nothing about Titanfall comes out as shallower by comparison. You have most of the base mechanics of that series, in addition to the parkour and Titans.
I doubt MS got to push for a faster release date, so much as the Titanfall team is FAR smaller than all the people that make CoD or Battlefield, so the volume of content will be less. Quality is a whole other issue, as I think the map design in Titanfall is leagues above what CoD has diluted down to.
Well I'm still hoping for new modes, ones that deviate more heavily than what they've currently came up with that are largely the same stuff we've experience before.
The core mechanics are unique enough, but the modes feel the same. I'd prefer they do something like Unreal did back in the day with Assault mode.
Um…I hope they don't copy this map at all. It may be bright and have colors, but it also looks incredibly flat, boxy, generic, and lacking in detail. Some of the texture even look straight photo-sourced.
Mirror's Edge inspired maps also weren't that uncommon either, much less better examples just made by artists in UDK like these: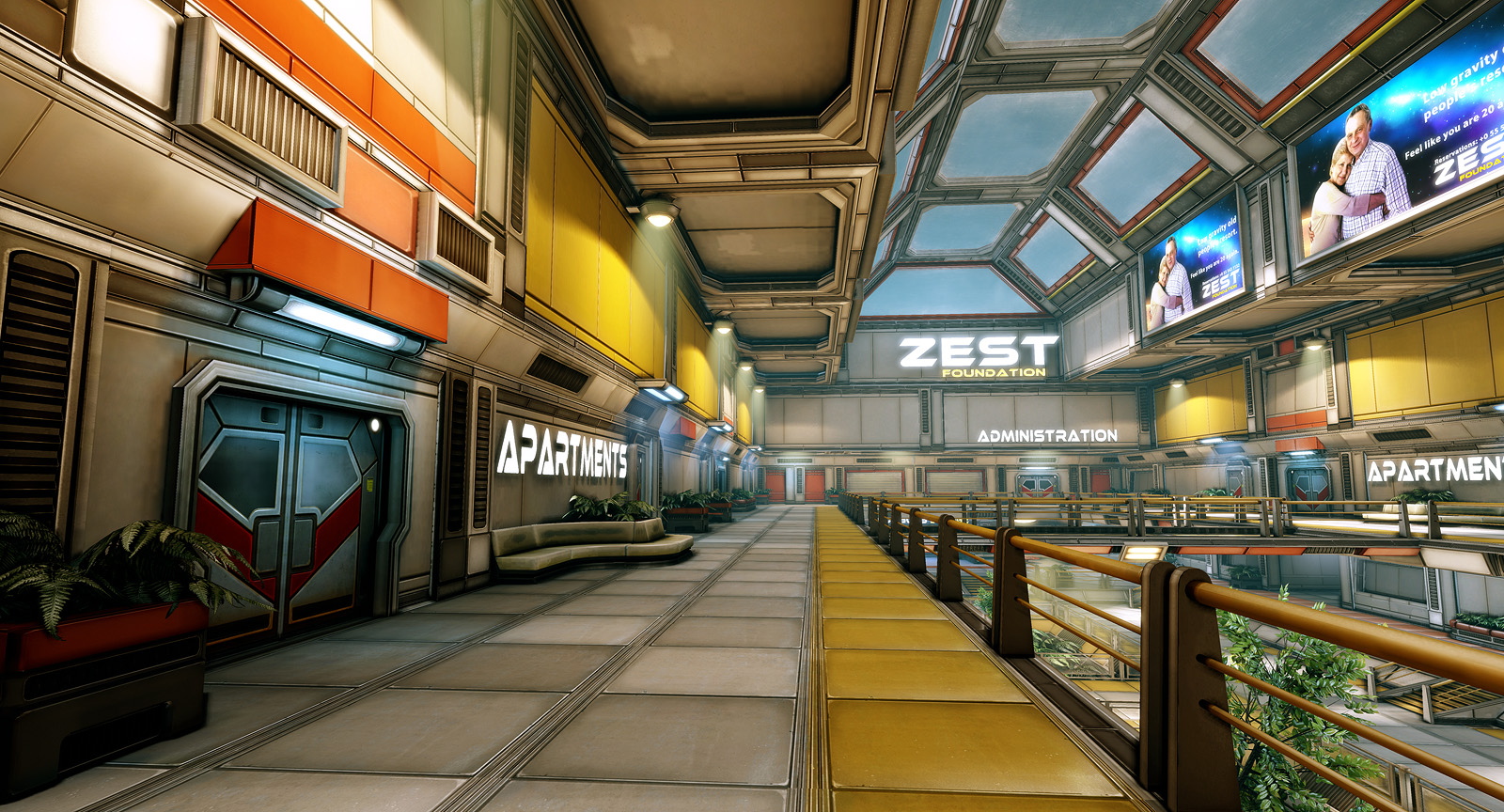 or
Really, no love for the flak cannon or shock rifle combo?
I hope modders do something with it. It only appears as a gimmick when other developers don't do anything interesting with it.
A sign…they already have stepped away from the brown and desaturated stuff a couple of years ago. Most of the big games coming out in the next few years have all either been incredibly saturated, or color balanced like the actual real world.
Even Epic added in more color with each new Gears games, so the transition has happened.
It would have to be a re-release, because making another Bioshock in Rapture seems utterly pointless. The magic of the first game was that it was your first trip in a weird place, it gets weaker each time after.
"Does it bum me out that the player's story might outweight the character's? No. There's so much life and texture and color and richness in the open world that regardless of which of the two journeys you want to focus on, the character's or your own, you're going to enjoy the experience."
It's almost like players inherently co-op the narrative with their own actions in the world…
So a dev not trying to fight that so hard with those funneled FC3 story missions would be appreciated. The series is known for firefights that allow you to take what approach you want in an open space, with lots of different tools. Really I'd just be happy with Far Cry 2 (give me back that UI), with a story that reacts to what the player does in the open-world, keep the predatory animals from 3, and give me more stealth tools.
I'd just like if they made the story adapt to the crazy stuff you do in the world, since so few games try, much less succeed at it.
I was implying what Konradak just said.
Since Amazon doesn't charge you until the game launches, you can pre-order, get the beta, and cancel it literally in the span of a few minutes. Handy for any pre-order betas.
You could just pre-order at Amazon, and they won't charge you until the game has released and shipped.