ajohnston37
joined Oct 25, 2012
last login Aug 20, 2014
posts 3
comments 6771
Twitter/Instagram: ajohnston37
Recent Activity
h/t to Woadmeister for supplying the goods yesterday.
Comment
3 replies
Recommended (6)
True blue-collar working cats. None of that corporate bullshit!

Comment
1 reply
Recommended (1)
Donno if 'dragon dropping' was intentional but it's awesome.
It sucked me in with the characters and world. I'll get the PS4 edition eventually but not for $50. I really wanna play with the photo mode on there. Game is gorgeous.
Lol peeped it on Youtube. Nahhhh.
bleaches eyes
Schweet. I'll give it a go!
Her album Vows is on Amazon Music. Is that her first?
Welp this conversation is over!
Jk, both those things look like they're throwaway bonuses for sure, but still cool because those are two of my favorite games.
Hell yeah I forgot about Gauntlet Legends. Soo much fun co-op'ing that on the N64. I'll never forget when one of the characters did their special or something they would yell. I can't remember what they actually said, but I always thought it sounded like they were saying "PLASMA PUDDING" and I decided that was way better anyway.
From the Amazon description for the UE edition.
For PlayStation owners, Diablo III: Reaper of Souls – Ultimate Evil Edition offers 'The Last of Us' Nephalem Rift, a randomized dungeon swarming with Stalkers, Clickers and Bloaters in hand-picked environments with a unique 'The Last of Us' yellow spore effect. Also included is the 'Guise of the Colossi' Unique Armor; a unique transmogrification plan that unlocks six armors that are inspired by 'Shadow of the Colossus' and work for all classes.
You stop it with that temptation!!!
Kimbra was featured in that Gotye song right? Haven't heard any of her own stuff before. I'll have to check her out.
Get turnt up with Deckard Cain, y'all!
If I get this it might be an impulse PSN purchase. This release kinda snuck up on me.
I'll probably eventually pick it up on PS4. I bought it day one when it came out for PC/Mac but barely played it. Was gonna play with a friend who I played a lot of D2 with but he ended up having an old laptop that couldn't play it haha. Then he got married and the rest is history! I'd rather play on the couch with the DS4 anyway and it'd be good to get back into the world of Sanctuary.
Nah Dark Souls saves everything you do all the time. Accidentally killed that NPC? Tough luck, they're dead until your next playthrough. I guess you could make a copy of a save, but that would get annoying trying to do that. No real active saves in the Souls games though. It's just saves as you play.
But yeah, that Dead Space 2 hardcore mode or whatever? The one trophy I'm missing for the platinum. NOPE.
Comment
1 reply
Recommended (2)
It's clearly nier and dear to his heart.
Comment
1 reply
Recommended (1)
Never played it but I know you're talking about Nier because I've heard you talk about it haha.
The one where the cat sat on the phone purring was golden too. Not worth the gif without the audio though.
Comment
2 replies
Recommended (1)
These are fantastic. My favorites, giffed: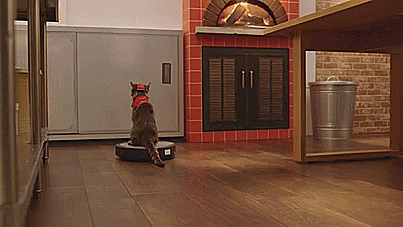 When you first sign up they ask you a few questions about your dietary needs/preferences. So you can select vegan and only get that stuff. But eff that!
I gotta admit, though you're fully aware they're schlepping a product onto you, the McElroy bros make an advertisement about as enjoyable as possible. The segues from whatever they're talking about into them is usually worth a chuckle alone.
I'll still do that. The way I'm planning to do this is to eat out on the weekends all I want. I think Sterling may have mentioned this was his method? And if some friends are doing something during the week and going out, I'm not gonna be like "Oh no, I must eat my Nature Box!" But plenty of times I'm just at home like, damn I don't wanna make anything and then I go through a window somewhere. For times like that, I'll just snack on some delicious sourdough cheddar pretzels and a whole wheat raspberry figgy bar;)
I know this mode of storytelling might not be everyone's cup of tea, and I know I miss tons of stuff and don't put it all together really. That being said, I enjoy watching guys like EpicNameBro and VaatiVidya delve deep into the lore. There's a lot more there than one would expect!
Yamagiwa warned that players testing Bloodborne at gamescom should not "get too disappointed that it's too easy": the public demo has been toned down in difficulty compared to the retail version as From wants players to experience the full demo.
I mean I easily eat out three times a month. That's all I've got to replace with Nature Box to come out even.
Yeah I just started listening to MBMBaM a couple of months ago and after hearing them yap about it a few times I figured I'd look it up. So far so good!
I believe this was a demo version that was dialed down in terms of difficulty. I'm sure you'll die a lot, don't worry.