ak-blanc
joined Oct 25, 2012
last login Mar 11, 2014
posts 0
comments 1336
I'm a musician, web developer and gamer. Also a husband and father.
Recent Activity
Amen to that. Local multiplayer is the dope!
Although, people do want an online mode in towerfall, it's just that they can't have it, for all the reasons named in this article. Now in the future, when it takes less than 1/30 second for the network exchange to happen, I think it'd be awesome to have an online mode in these kinds of games.
Well don't forget Infamous: second son is coming out this month…
I do hope it's gonna be as good as Killzone 2 was!
Awesome feature. I didn't even noticed I started reading it than I was finished already!
Comment
2 replies
Recommended (6)
It's even more impressive when you see it from the back of the building!

You're probably right but there are still a few people like me who mostly don't care about playing online but do care about the games :-)
Comment
1 reply
Recommended (4)
Yeah, it looks like a square building with square windows…
I was under the same impression.
There was a lot of PS+ subscribers on PS3 already and it wasn't needed to play online so I'm not sure free games can't bring people on as strongly as online play might.
freaking 90 seconds edit time…
I guess I misunderstood when you said "alongside that game".
Whatever, please ignore my comments, I'm too damn tired to understand what people are writing or to write things that make sense. Sorry!
The date matches, yes. Still weird to sell the console without the game.
Comment
1 reply
Recommended (1)
Tomb raider wouldn't have got very famous with the pyramid-shaped boobs of the first games. There was much more to it than that!
The looks and ambiance of this game were repelling me already. I don't think it fits at all a frantic and fun multiplayer game. But since the game is broken and dull, I have no regrets!
That's what I was thinking too. Although I have no idea how much money he actually has, I assumed he might have 450k lying around if he wants his game. Maybe not?
Oh man, that would be the best christmas gift ever to give my little bro…
You can also play the winning games from the previous years on jenniferann.org/games
Full disclosure: I made three of those games.
The title of the game alone is making me laugh! I haven't played Guacamelee yet but I love Drinkbox Studios and their humor. Had a blast with their mutant blob games!
Comment
1 reply
Recommended (4)
Oh, so you're the one to decide what's dumb and what's not. Good, I was just wondering.
I loved Uncharted 3, I liked it better than Uncharted 2.
I agree that it can be irritating when everybody's raving about the latest game/movie/song, especially since that game/movie/song can't live up to your expectations after hearing/reading all the praise and you end up disappointed.
Comment
1 reply
Recommended (1)
Indeed. I had my brother home last week-end and to show him how the PS3 compared with the PS4, I hooked both to my full-HD projector and switched between both. We compared Flower, FIFA 14 and NFS Rivals (PS4) with NFS Most Wanted (PS3). In all these cases, the PS3 version looks fine, until you've switched to the PS4 and return. After playing a little bit of Flower on the PS4 and returning to the PS3 version, it felt like it was constantly lagging, the framerate and the aliasing felt really awful.
Comment
2 replies
Recommended (3)
It's funny how you illustrate your second sentence with the first one.
Remember the old "PS3 haz no gaemz" thing? It was stupid and it's still stupid now with the PS4 which does have lots of games for a console released 3 months ago.

Not much exclusives but you do need a console (if you're a console gamer) for third party games too, and the PS4 is a fine choice for that. Once you've played NFS Rivals on PS4, you really don't want to go back to playing an NFS game on PS3. Same goes for most cross-gen games, they look better and are smoother on PS4.
I think the PC version isn't censored. Let me check… Yep, only the PS3 and 360 versions are censored.
Comment
1 reply
Recommended (1)
Nasty enough for the European version to have 7 small sequences censored (like performing abortion or the sadly very common nowadays anal probing…)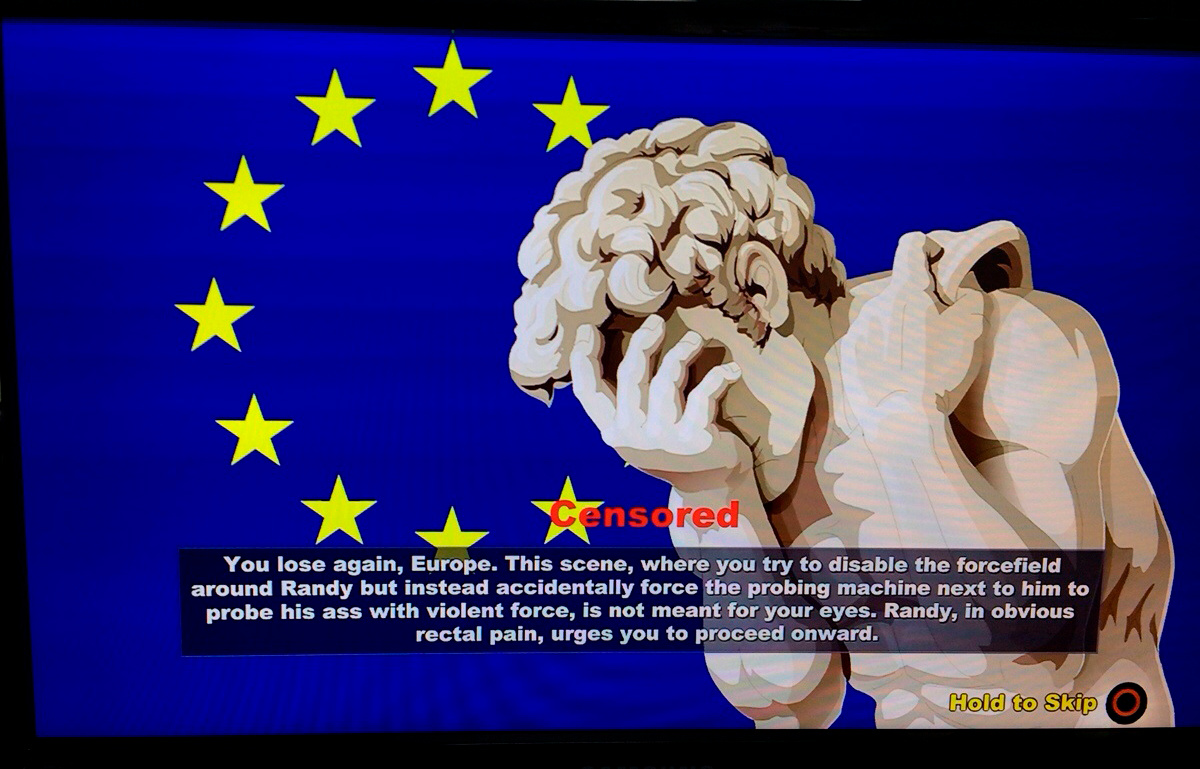 I'll have to admit I didn't know how much new content was actually added to each new iteration. So my impression was/is really the view of an outsider, it's how it looks. But you're doing a fine job justifying the existence and price of the different versions of the game.
Another game I'll probably buy because I'm interested in it but won't play for months/years/ever because I lack the time…