sum_guy
joined Oct 30, 2012
last login Aug 22, 2014
posts 2
comments 7551
Just sum kind of guy. Nothing integral about that.
Recent Activity
Hey at least this one isn't broken up to volumes. Some Eastern sets are still doing that (Kill La Kill and Full Metal Alchemist bitterly coming to mind)
I dunno if this is what sparked the Pecan conversation yesterday but look at this.
Well season 3 of Korra ended on a downer I'm curious what will happen with season 4 now; especially as things are fairly open ended
Comment
1 reply
Recommended (1)
They really have a good way at showing violence :o That's also a bad death
That's bull I'll just order my own boxes and make my own artwork!
Well for us we pay like 40$ for internet? we have a 300gb cap BUT between 2am-8am you get unlimited. My problem is do I really want my laptop on at that time/ stay up until that time?
I need to find a way to get it to run on my Wii I suppose…
Don't be sad cling to hope!
It'll make the despair taste much sweeter.
Well depending on the source some say it was and others say the spin-off talk was just an internet rumour.
In one interview one of the producers said they did want to change the formula to prevent it from being stale and they did think of a room but it wasn't quite Silent Hill and more of a spin off.
I'd argue because it changed the formula so much. Near unkillable enemies that damage you just by beign around you, your room goes from a safe haven to somewhere that can also kill you, limited inventory, less guns and bullets and breakable items. and just some of the monster designs scream wtf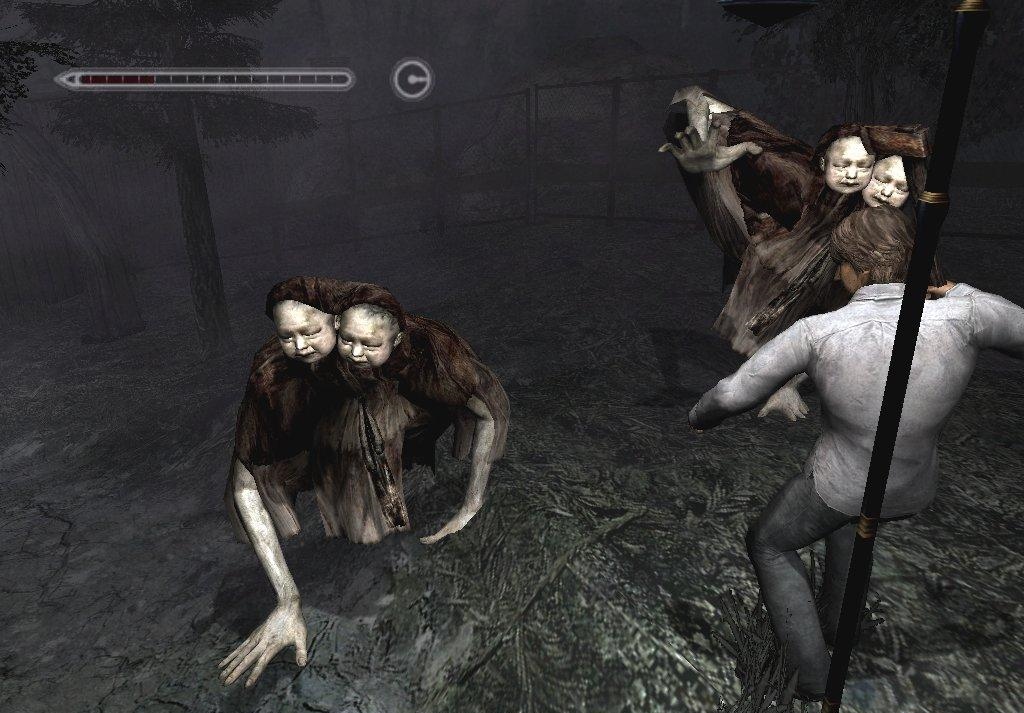 Comment
6 replies
Recommended (2)
Please come to North America and with the same boxart :(
You know after reading about remastering Resident Evil. Why don't they remaster the Original Silent Hill as a proper remaster and not as Shattered Memories runner. A graphics update and minor gameplay update would be cool.
As it stands on my SH creep Factor list:
SH4 as most creepy (I've started reading things mostly pertaining how to kill the ghosts and learned quite a bit)
SH1 (Ghost kids, Lisa)
SH2 (sense of dread, darker themes)
SH3
SH downpour
And I still have to play origins on psp, homecoming etc.
But it still made it a bit more unique :p
Money is a bit tight right now seeing as how Step dad had to transition jobs and other bills have been adding on. We're typically good with our usage and month is almost over but given how me and my brother both installed the game that basically meant 100GB instantly (which is either 1/3rd or a bit more than a 1/4 of our cap)
Eh, probably not I don't plan on doing anything as fun as Woady just get a bag of ice and water and have it dumped on me….shirtless for extra regret :D
But it's for a good cause.
Purple came with Mario sunshine at the time and a memory card (though it was way too small). Of course I asked for it as a Christmas gift.
So Titanfall unfortunately made me hit 90% of my data cap so there goes that for this month…. I'm currently now on PD by tethering data as that's unlimited; albeit slow. That also means I won't be able to play Sonic this weekend or remainder of month.
In other news my cousin nominated in the ALS ice bucket challenge (so I'll be doing that later today when my buddy gets off work ) and I got a concert to go to tonight! But yeah… slow internet…
Never mind worked after re-installing origin to secondary drive. Yay technically free game!
So after installing said game I get error code a0020008… great….. I'll solve this tomorrow. Maybe check here after if someone knows the solution.
For some reason playing on a smaller screen makes me more nervous. I wonder if it's because the screen is closer to my face or the size of it makes me feel confined some how
I really enjoyed it on the 3ds to be honest. The 3d also added a nice touch.
Okay installing phase good!
Spoiler tag everything and place the burden on the reader >:D
Yeah, we seriously don't have the necessary infrastructure if everything starts at 50Gb and unlike the ps3 digital titles seem less attractive as an impulse buy because of these file sizes.
As it stands with said download, Ping at 21ms, 16.60mbps down/2.88 mpbs up.
Update to my work schedule:
Good news is no work from Sunday onwards as I seem to have a full vacation week! Bad news (for you guys) is that I'm house sitting in the morning and will be bbqing and swimming in a pool and have no idea when I'll be back home.
According to what I saved as a draft email:
Air
Good Luck Girl
D-Fragments
Eden of the East
Rumbling Hearts
Princess Jellyfish
and Bamboo Blade considering I accidentally watched Saki Side B/Side A (seriously you should have seen my reaction as I'm asking "okay, this is all fun and all and they really cared about mahjong, but WHERES THE SWORDS)
First episode still had me like 0.o. I'll keep watching and see what happens I mean only 12 episodes right?
30/52gb internet did mess up on me once though. Yeah, next gen consoles have me worries…
So first episode was err something…
Strangely enough I feel as if I've tried this and didn't understand it at all and skipped it.