surft
joined Oct 25, 2012
last login Apr 19, 2014
posts 2
comments 633
Recent Activity
Ah, but if you're opponents creatures survive flamestrike, mages tend to be in deep doodoo because they practically can't cast anything of significance with it given it's 7 casting cost. I'm totally more afraid of a good shaman or rogue. They tend to summon high powered minions quite quickly ( shaman) or don't exactly need them too much ( rogue).
On to topic. But some people do one thing really irritating: they wait until the god damn fuse appears before they make their move FOR EVERY TURN. It gets annoying.
Comment
3 replies
Recommended (2)
Today is a sad day for me:(


RIP Gabriel Garcia Marquez
The question is will he make the martial art 'sounds' (you know what I mean), he usually makes even with the mouth guard?
He will probably be the most played fighter on the roster guaranteed.
So how much money did Stoic have to spend, including lawyer fees? Did it significantly eat into their profits? Come on insiders the people want to know!
Yes, yes, yes , yes! Something to play during Holy Week (Lent) while I'm stuck on an island, beach resort, with nothing else to do except sip rum-cola, go to the all-day buffet, and ogle hot women frolicking in the water with their tatas out. Life gets boring sometimes, thank god for gaming.
Ya, and if it was a breach, they would not only be firing him, but filing the appropriate legal case/s against him. There also wouldn't be that lovey-dovey reply by Bungie as well. It would be a legal department statement or they would keep mum.
"Today, as friends, we say goodbye"
Okay, by O'Donnell's tweet alone we can definitely assume the break was not amicable, so he isn't actually parting as 'friends' with the company.
In all likelihood it's a money thing, simple.
Maybe one of the few good things about this since they_ let him go_, he's probably entitled to a substantial (not necessarily status quo 'livable') lump sum severance package since he was employed since 1999.
But at 58, let's get brutally real world serious, freelance (or set up a new TotalAudio company again?) are probably his only options even if he is a famous composer. Nobody likes to pay extra for insurance and healthcare not to mention salary. So being angry at the board of Bungie is understandable given they cut him off entirely instead of letting him 'retire' gracefully (with all the benefits).
On the other hand a little selfish dream of mine suddenly has a small, really small dim flicker of hope: a Septerra Core: Legacy of the Creator remake. I love that game, (*yes, it did not age well and was a bit of a JRpg rip but it holds a special place) and I can't help myself.
Hmm, the game is beautiful but the Princess being a 3D model as opposed to everything else being 2D seems a bit disjointed to me.
Pac-mom used her special ability: Rosary Hex
It's super effective!


Ok, somebody got raped.
Kirkman hurt me real bad.

Kind of feels like Shadows of the Damned.
Maybe even a Garcia Hotspur skin for the main protagonist(?)
Women in their own way, assert their power over men. They are powerful.
There is subtext behind patriarchy that I'm glad Wolf Among Us presented quite well in the story.
Well questions like this always revert to: do you trust Facebook, a company that is under tremendous pressure these days to find ways to monetize by their investors? (yes, it's a tired question)
If ever Virtuix is allowed for 'free' later on, I believe there will be a trade off to this in some way. Data-mining maybe?
Hopefully this just mostly replaces/overwrites current assets, and will not significantly increase game file size. Fulgore and multiple ending stories in arcade mode are awesome though:)
Comment
1 reply
Recommended (3)
They rejected it because it depended too much on the success of the Oculus in order for it to be a viable gaming platform. It was an accessory to an accessory. Here is the portion of the episode they were featured in: (season 5 episode 11)
Now with Facebook buying Oculus, things may be even harder for Virtuix. I seriously doubt Facebook will be as open to third party accessories without some serious royalties thrown into the mix.
Comment
3 replies
Recommended (1)
Wow. Episode 10 of Rick and Morty. One of the best written episodes of any cartoon I've ever watched.
I'm calling it now (though understandably can be be disagreed with because it's rather early), the show deserves to be at least nominated for an Emmy for Outstanding Animated Program. It has been consistently good to outstanding.
Comment
1 reply
Recommended (2)
One-inch punch should be in the game:)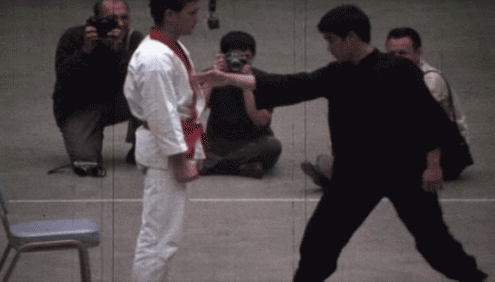 I still doubt my old, trusty 2500k will bottleneck this game much, given, I got quad-SLI 770s running on just a 1800p 50 inch display. Even at stock (no overclock cpu)
Great, now how about a Tekken 7 announcement to go with it?:)
Another game that deserved the copy, "Prepare to Die":)
Seriously, Labyrinth of Amala f*ed up my innocent, twelve year old life for at least 2 months.
It's a crazy setup, and on your first playthroughs, you'll die, a lot. But if you stick with it, you'll notice that your decisions can open up different scenes.
So is it a Princess Maker clone?

Princess Maker.
Now that was an awesome game. Memories :P
Comment
1 reply
Recommended (1)
Don't Lose Your Way…….
At least a Season 2 is confirmed, right? That's good.
Net Code is king in this game, and knowing that Iron Galaxy has a great pedigree with their own code in Dark Stalkers and Origins (and eventually SF 3 with the recent update), I have hope that the FGC will have fun executing more ccccombo breakers in the following year(s):)

That evaluation is outrageous.
What a bunch of greedy pigs.
Comment
1 reply
Recommended (2)
Kill La Kill 23

Epic Thread Cutter
Uniforms are back
Last Episode next week :(
Comment
1 reply
Recommended (1)
So, can we call RIP on Mantle?